Welcome to Town of Enfield

Town of Enfield ~ A Great Place to Live!

Founded in 1740, Enfield, North Carolina is the oldest town in Halifax County. In 1896, the opening of the Enfield Tobacco Market brought a glimmer of prosperity to this small town of 700 people (today 2300+). As the tobacco market grew, new businesses were established along with the Bank of Enfield, the oldest bank in Halifax County.

Peanuts, however, soon became the leading agricultural market in Enfield. The establishment of many buying and cleaning stations for peanuts soon made Enfield the world's largest raw peanut market. Every year, Enfield is host to the Peanut Festival. Family fun featuring good food, arts and crafts, carnival and amusements, music and dancing, and, of course, the famous peanut — no small thing around here!

Enfield is easily accessible, only five miles from I-95 (Exit 154) and HWY 301 runs through our great town, so stop by and visit us.
---
Happy New Year!!
Enfield's mayor, commissioners, town manager, and employees wish you the best for 2023. Here are 10 recommendations from the American Medical Association for a healthier new year.



The AMA's 10 recommendations for a healthier new year, include the following:

Be more physically active
Adults should do at least 150 minutes a week of moderate-intensity activity, or 75 minutes a week of vigorous-intensity activity.


Make sure your family is up-to-date on their vaccines
...including the annual influenza vaccine and the COVID-19 vaccine for everyone age six months or older.

Speak with your physician about your eligibility for a bivalent booster. Anyone with questions about the COVID-19 vaccines should speak with their physician and review trusted resources, including getvaccineanswers.org.

Following evidence-based public health measures, such as physical distancing and wearing face masks, are also an important way to help protect against COVID-19 and the flu.


Get screened
Estimates based on statistical models show that since April 2020, millions of screenings for breast, colorectal, and prostate cancer diagnoses may have been missed due to pandemic-related care disruptions.

Check with your physician to find out if you're due for preventive care, tests or screenings, and make an appointment.

These measures are designed to keep you healthy and help your doctor spot certain conditions before they become more serious.


Know your blood pressure numbers
Visit ManageYourBP.org to better understand your numbers and take necessary steps to get high blood pressure — also known as hypertension — under control. Doing so will reduce your risk of heart attack or stroke.


Learn your risk for type 2 diabetes
Take a simple online 2-minute self-screening test at DoIHavePrediabetes.org.

Steps you take now can help prevent or delay the onset of type 2 diabetes, which is a risk factor for severe COVID-19 outcomes, including hospitalization or death.


Manage stress
A good diet, sufficient sleep (at least 7.5 hours per night), daily exercise and wellness activities, such as yoga and meditation, are key ingredients to maintaining and improving your mental health, but don't hesitate to ask for help from a mental health professional when you need it.


Reduce your intake of processed foods and sugar-sweetened beverages, especially those with added sodium and sugar
Eat less red meat and processed meats, and add more plant-based foods, such as olive oil, nuts and seeds to your diet.

Also reduce your consumption of sugar-sweetened beverages and drink more water instead. Drinking sugary beverages, even 100% fruit juices, is associated with a higher all-cause mortality risk, according to a study published in JAMA Network Open.


If consuming alcohol, do so in moderation as defined by the U.S. Dietary Guidelines for Americans
Up to one drink per day for women and two drinks per day for men, and only by adults of legal drinking age.


Talk with your doctor about tobacco and e-cigarette use (or vaping) and how to quit
Declare your home and car smoke- and aerosol-free to eliminate secondhand exposure.


Follow your physician's instructions if prescribed pain medication or antibiotics
If you are taking prescription opioids or other medications, follow your doctor's instructions, store them safely to prevent diversion or misuse, and properly dispose of any leftover medication.

If a health care professional determines that you need antibiotics, take them exactly as prescribed—antibiotic resistance is a serious public health problem and antibiotics will not make you feel better if you have a virus, such as a cold or flu.
---
FREE SWEET POTATOES
Thursday, December 1st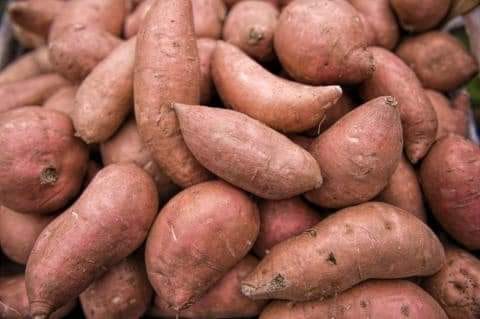 Sweet potatoes will be arriving around 12 noon on Thursday in the parking lot at the rear of Jennie's Cafe. These potatoes will be loose, so please bring a bag or container to put them in as we will not be loading them.

We kindly ask that you share with others as we will not be getting as large an amount as we usually get.
---
ENFIELD CHRISTMAS PARADE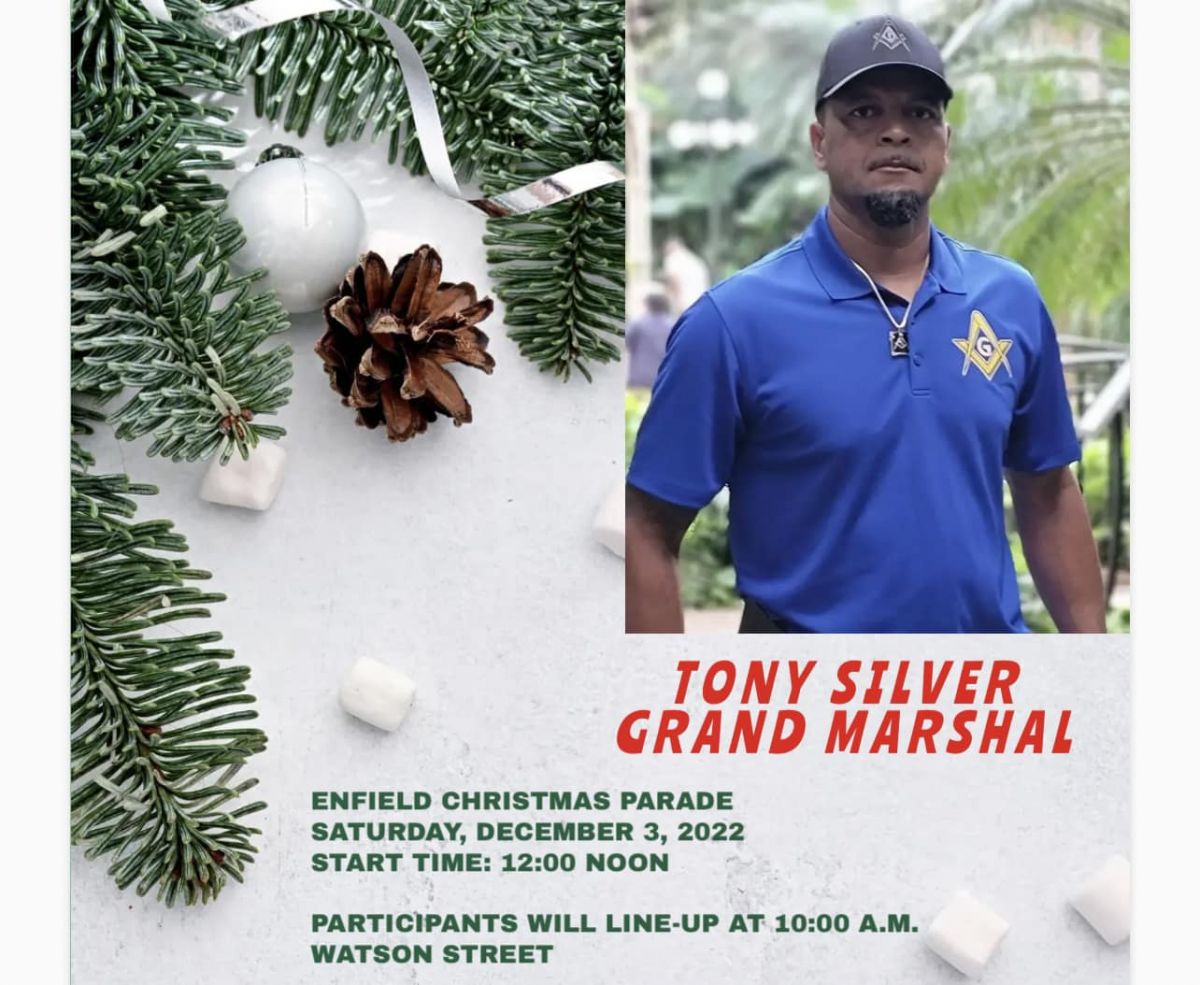 Begins: 12/3/2022 - 12:00 PM
Ends: 12/3/2022 - 2:00 PM
Enfield Christmas Parade
Saturday, December 3, 2022
THE PARADE STARTS AT 12:00 PM
LINE UP AT 10:00 AM on Watson Street
---
CADA BIG POPUP
Monday, August 1st
FREE FOOD, GAS CARDS, SHOES (While supplies last!!!)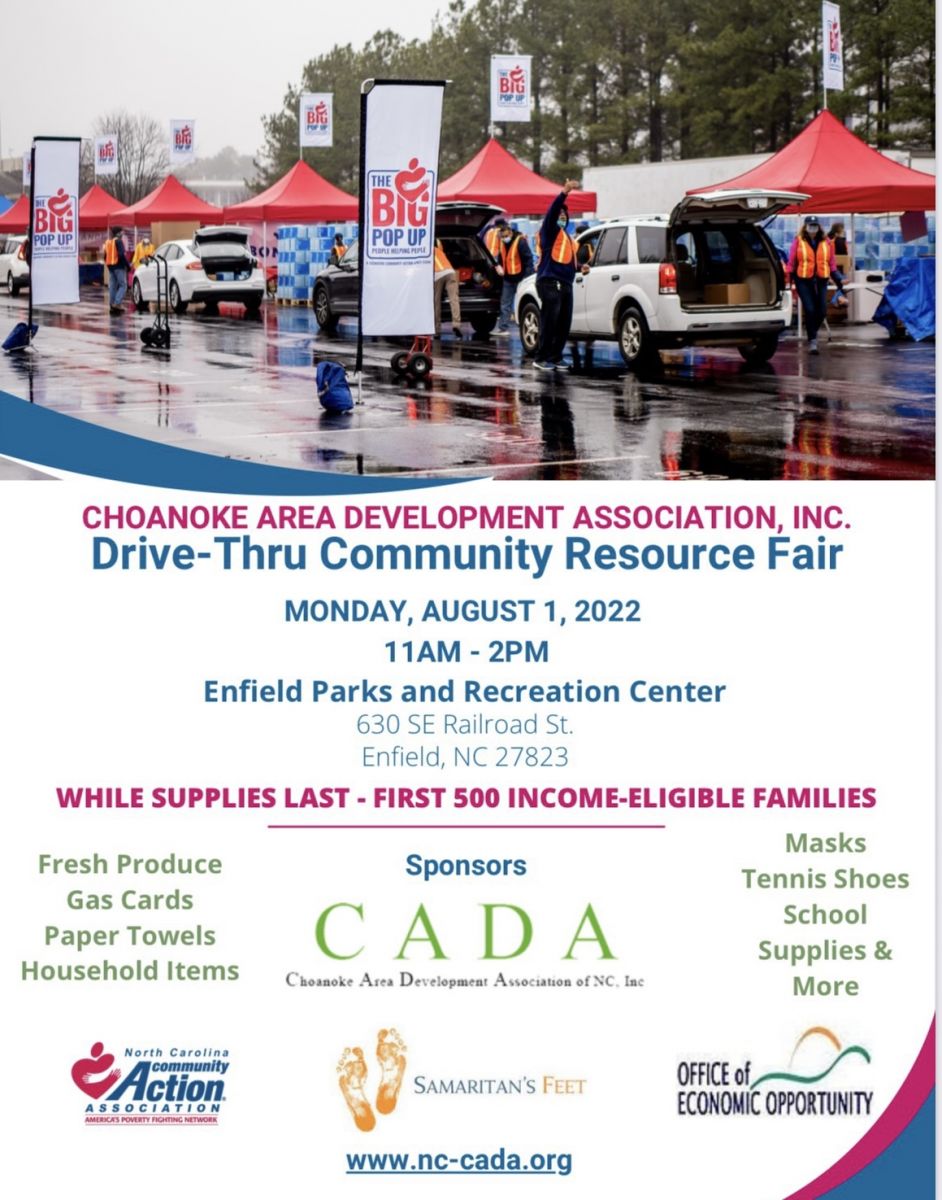 ---
We Are Family. Celebrating our Past. Creating a Brighter Future.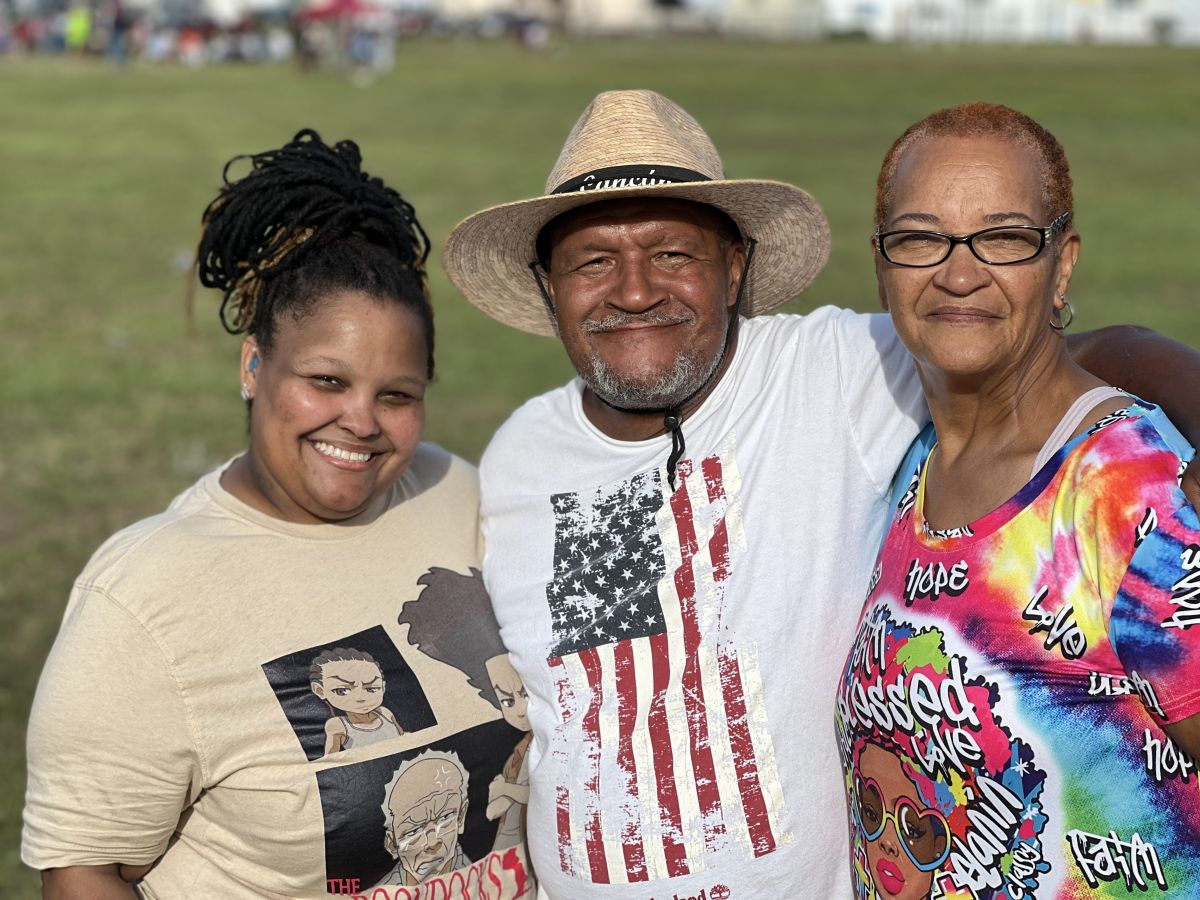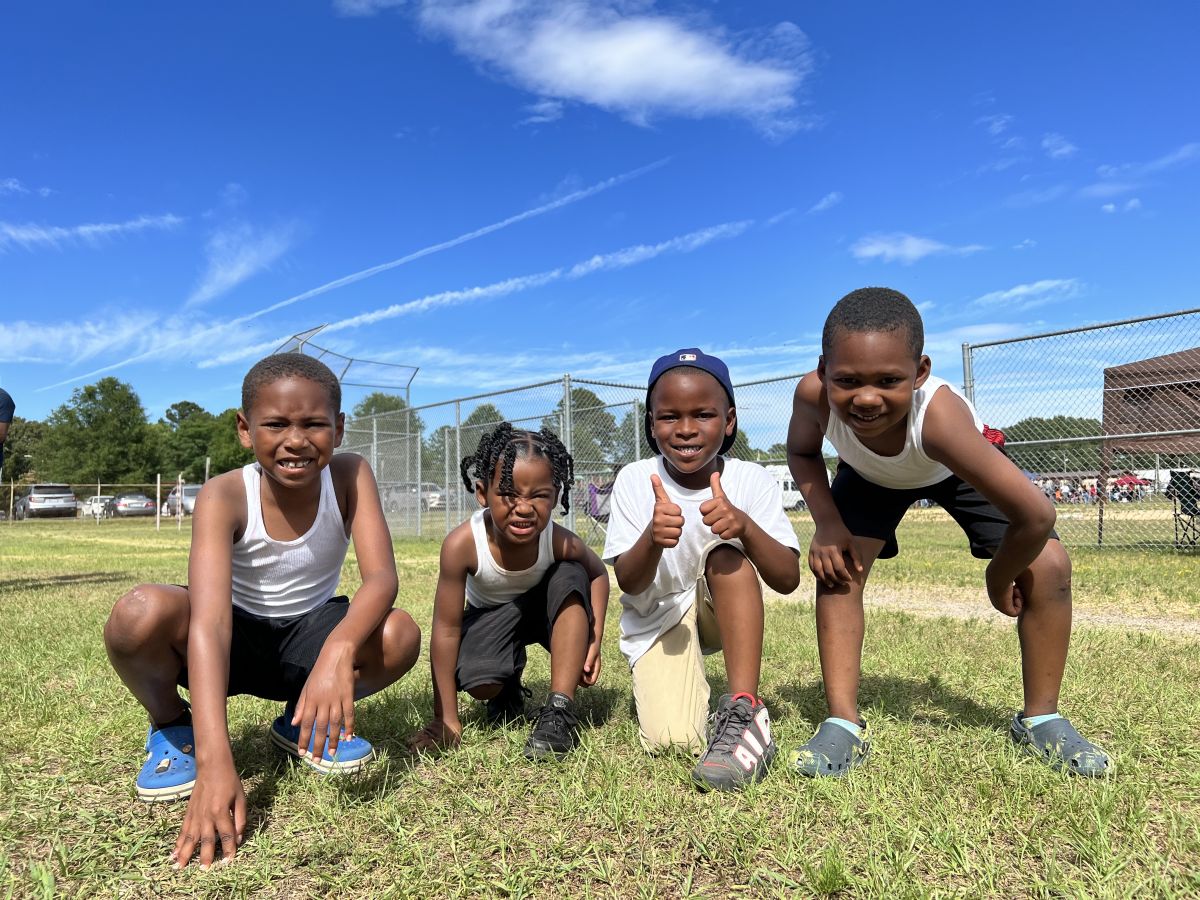 The board of commissioners voted previously to observe the federal holiday Juneteenth. Juneteenth celebrates the freeing on June 19, 1865, of those persons still being held in slavery in Galveston, Texas. That event, "Emancipation Day" or "Freedom Day" has now become a celebration for all Black people because until all of us are free, none of us are free.
On Monday, June 20th, the Town of Enfield hosted its first Juneteenth celebration appropriately themed, Family Reunion. The event was attended by over 600 guests who came from as far away as Philadelphia, Pennsylvania. Attendees enjoyed horseback riding, spades, bingo, kickball, basketball, horseshoes, and many other games.
The evening's highlight was a spirited kickball game by Mayor-elect Robinson's team and Commissioner Ward's Team that was officiated by Commissioner Bobby Whitaker. Commissioner Ward's Team prevailed by a score of 10 to 5, establishing what we hope will become a long tradition of competition and camaraderie.
Music for the event was provided by DJ Shuckie Duckie and Mike L. We would like to thank Rose Lewis for bringing out our seniors and hosting Family Bingo. She awards several prizes and the tables were packed. As always, DD Ranch supported our community with free horseback rides. Our lead sponsor for the event, the Black Male Voter Project provided unlimited food, beverages, and frozen ice.
The planning committee, Dominette Hatchett, Mayor-elect Robinson, Delresa Silver, Commissioner Ward, Commissioner Bobby Whitaker, and Carol Whitaker would again like to thank everyone for showing up and demonstrating their love for our hometown and each other.
CLICK HERE to view the beautiful ENFIELD FAMILY!!!
(YOU can add to the Family Reunion photo album. Forward images to Commissioner Ward - kward@enfieldnc.org)
---
What is Juneteenth?
Juneteenth, short for "June Nineteenth," commemorates the end of slavery in the United States.
When is Juneteenth?
Juneteenth is observed every year on June 19.
Why do we celebrate Juneteenth?
The Civil War ended in April 1865, but news of emancipation didn't reach Texas until two months later. When troops finally arrived to signal freedom to the state's 250,000 slaves, celebrations broke out and Juneteenth was born!
Join us as we celebrate the spirit of "freedom" that is a part of the Enfield story and our history.
Bring your lawn chairs and blankets and enjoy an afternoon of games, music, food, and fellowship.
CLICK BELOW for More Resources
Celebrating Juneteenth with Your Family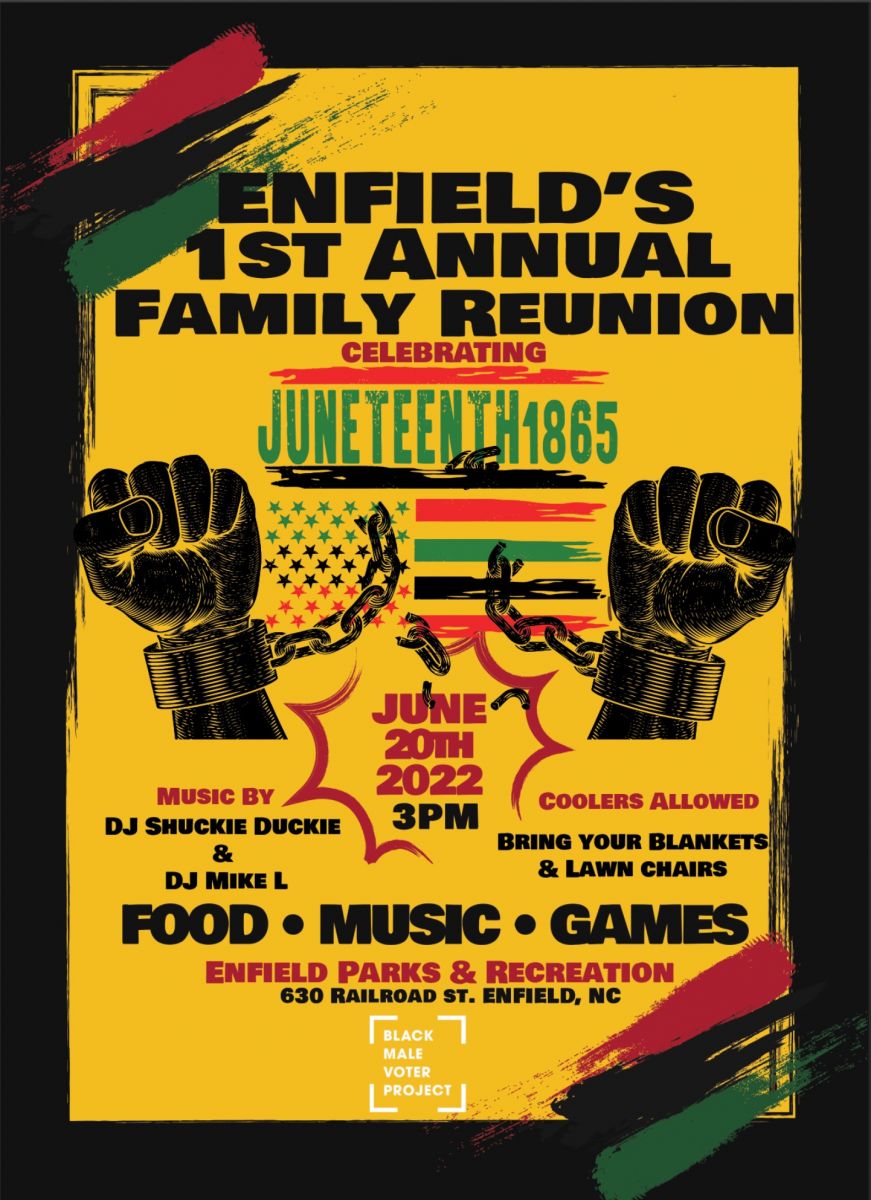 ---
THANK YOU
REPRESENTATIVE MICHAEL WRAY
The Town of Enfield is extremely grateful for Representative Michael Wray (Democrat - District 27) for donating $250,000 to the town. The board has voted to use these funds to commission a study of Highway 301 by the Kenan Institute, to remove dilapidated homes, as well as establish programming for seniors and our youth. Again, thank you Representative Wray!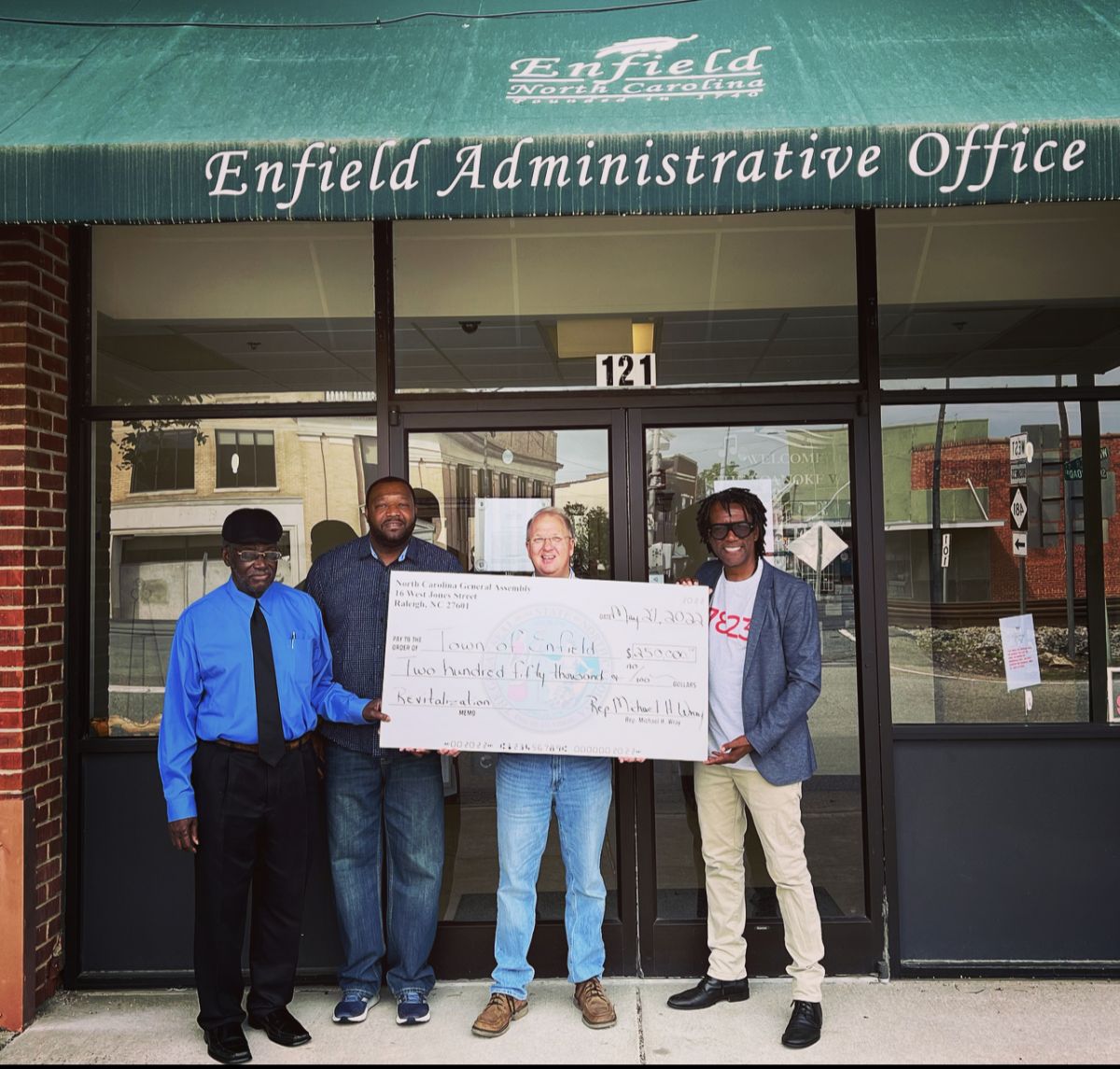 Commissioner Bud Whitaker, Commissioner Bobby Whitaker, Representative Michael Ray, and Commissioner Kenneth Ward.
---
---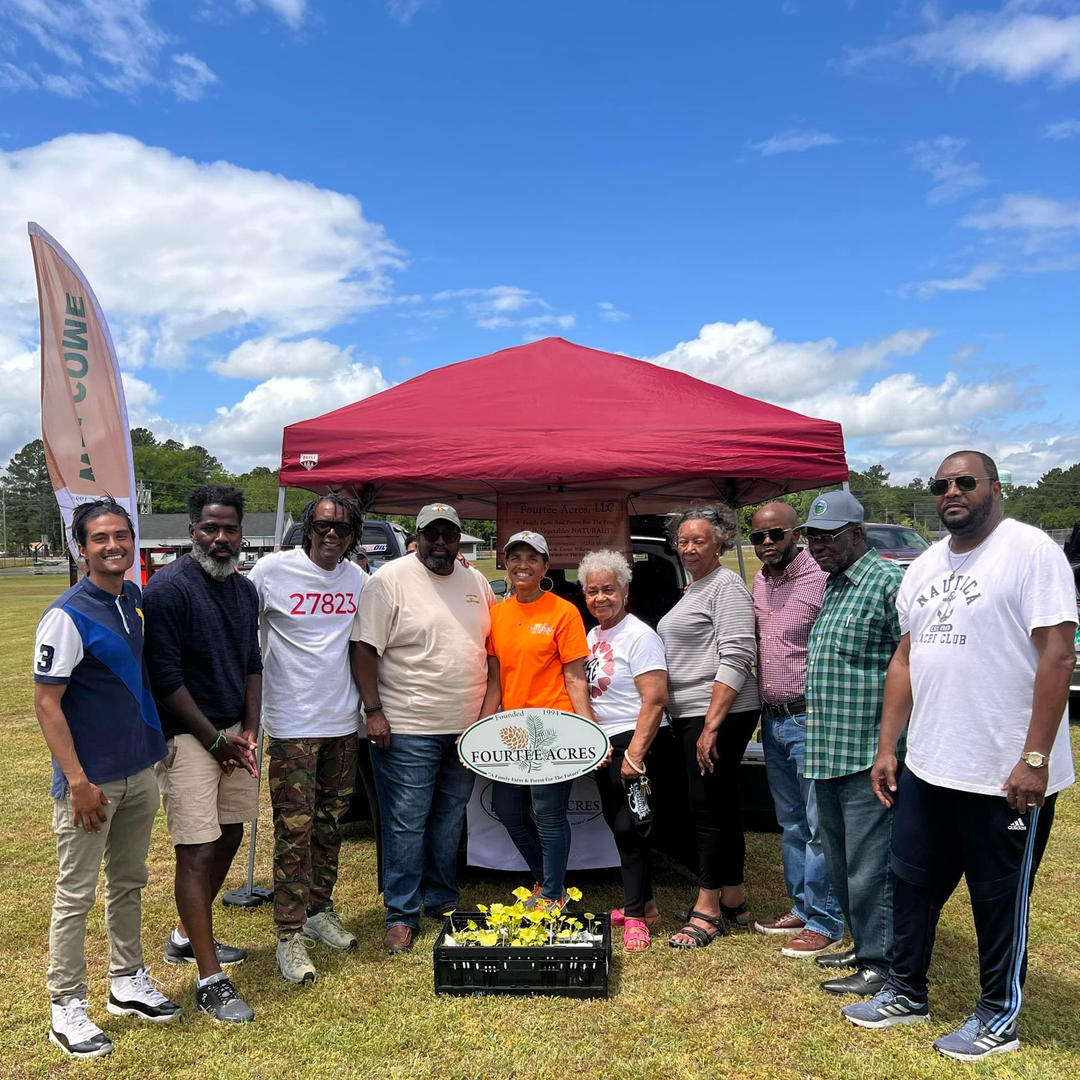 Breo Hamal, Health Equity Program Specialist- ABC2; Mondale Robinson, WMR Consulting; Commissioner Kenneth Ward; Tyrone and Edna Williams, Fourtee Acres Farmers; Mayor Barbara Simmons; Gerry Middleton, Enfield Economic Development & Revitalization Commission; Rodney Pierce; Commissioner Bud Whitaker; and Commissioner Bobby Whitaker.
Ideas do come to fruition! After months of planning and many Zoom meetings, We are overjoyed with the successful relaunch of the Enfield Farmer's Market. Commissioner Kenneth Ward has spearheaded these efforts with the dedication and work of Mary Jane Lyonnais Healthy Foods Coordinator Northeastern NC Partnership for Public Health Albemarle Regional Health Services; Rose B. Lewis - Aging Program Coordinator Halifax County Council on Aging; John Lyttle, Area Agent, Agriculture - Horticulture Halifax and Northampton Counties NC Cooperative Extension; Breo Hamal formerly with NC Cooperative Extension, currently Health Equity Program Specialist, ABC2; and Tyrone and Edna Williams Fourtee Acres Farms it happened.

On Saturday, May 7, 2022, under a beautiful clear sky, over 40 residents joined us for the relaunch. Commissioner Tracey Joyner, Commissioner Bud Whitaker, and Commissioner Bobby Whitaker joined Commissioner Ward in welcoming citizens and reopening the Farmers Market. We were also fortunate to have former Mayor Barbara Simmons in attendance. We are hoping to expand the market and it offerings. Through the NC Partnership for Public Health's initiative, many residents received vouchers for $20 of fresh produce. Fourtee Acres also had plants for sale so residents can produce their own vegetables at home throughout the growing season.
If you would like more information or to attend as a vendor, please contact:
Commissioner Kenneth Ward
kward@enfieldnc.org or 252-220-5656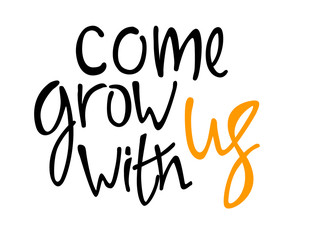 The Town of Enfield is HIRING
TOWN ADMINISTRATOR
RECREATION WORKER (PART-TIME)
PARK & RECREATION DIRECTOR (PART-TIME)
POLICE CAPTAIN


CLICK HERE FOR MORE INFORMATION: EMPLOYMENT OPPORTUNITIES
GET THE LATEST INFORMATION on Coronavirus in North Carolina
Fight Germs. Wash Your Hands!
---

EDUCATIONAL RESOURCES
Support your students with these amazing resources:
ABC Mouse (FREE membership using code: SCHOOL7771)
OTHER PRINTABLES/ACTIVITIES
Scholastic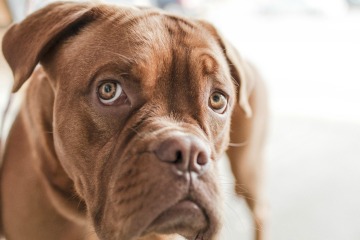 Support Local Animal Shelter
Looking for a furry friend to become a part of your family? Consider adopting a dog or cat from your local animal shelter. An adopted pet will provide unconditional love and companionship to all.
Featured News
Farmers Market Reopens
5/11/2022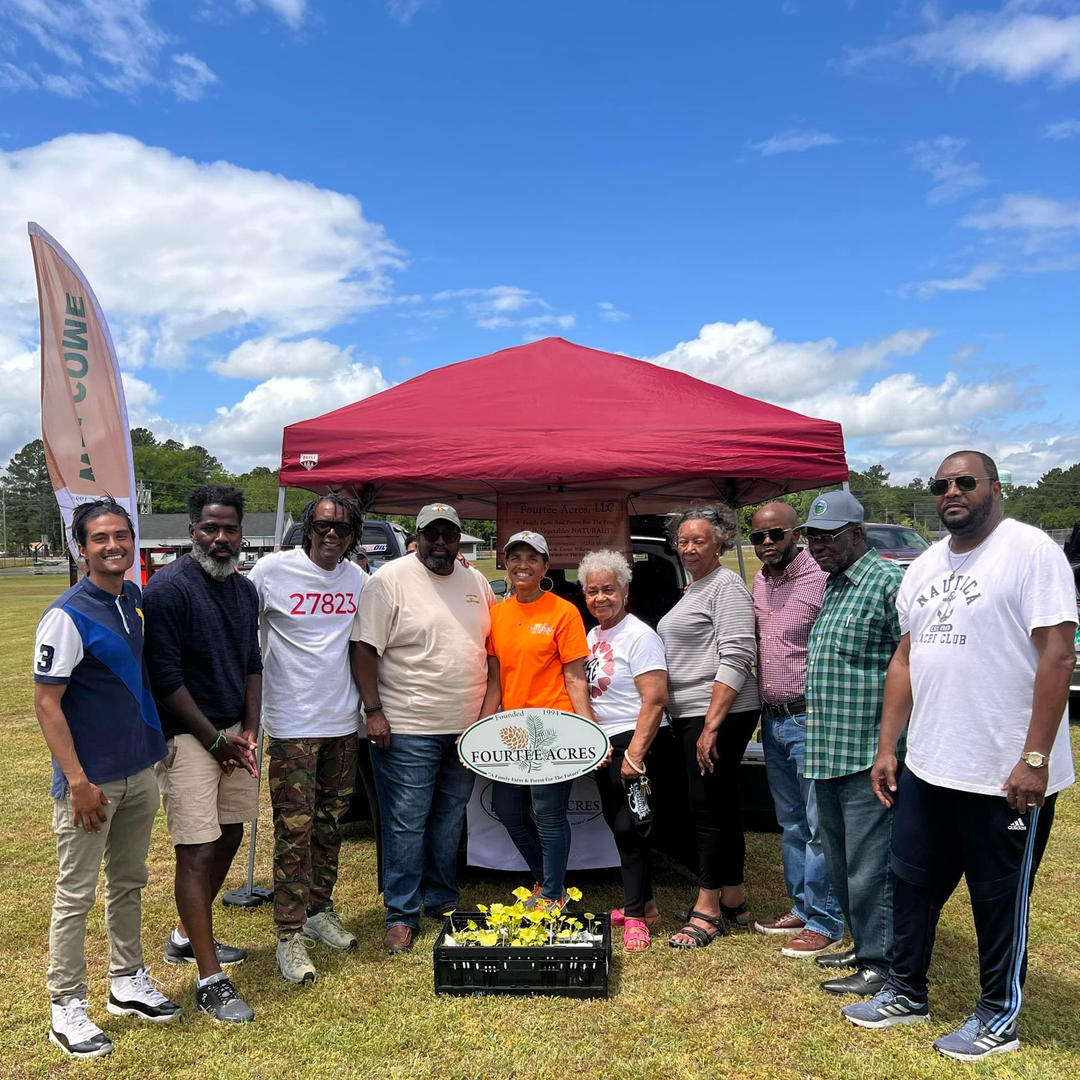 Breo Hamal, Health Equity Program Specialist- ABC2; Mondale Robinson, WMR Consulting; Commissioner Kenneth Ward; Tyrone and Edna Williams, Fourtee Acres Farmers; Mayor Barbara Simmons; Gerry Middleton, Enfield Economic Development & Revitalization Commission; Rodney Pierce; Commissioner Bud Whitaker;...
Fire Hydrant Flushing and Water Disinfectant Change
5/5/2022
The Town of Enfield Water Treatment Plant will temporarily change the method of disinfection in its public water supply beginning May 11th through May 25th.
For these two weeks, we will use Chlorine only. Free Chlorine is a stronger disinfectant than Chloramine.
As a result, users may...
Remembering Lt. Tonya Gillikin
3/15/2022
A Life of Service
Lieutenant Tonya Doreen Gillikin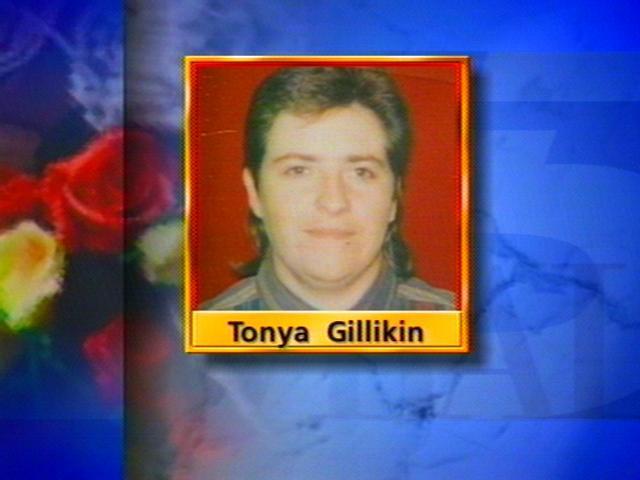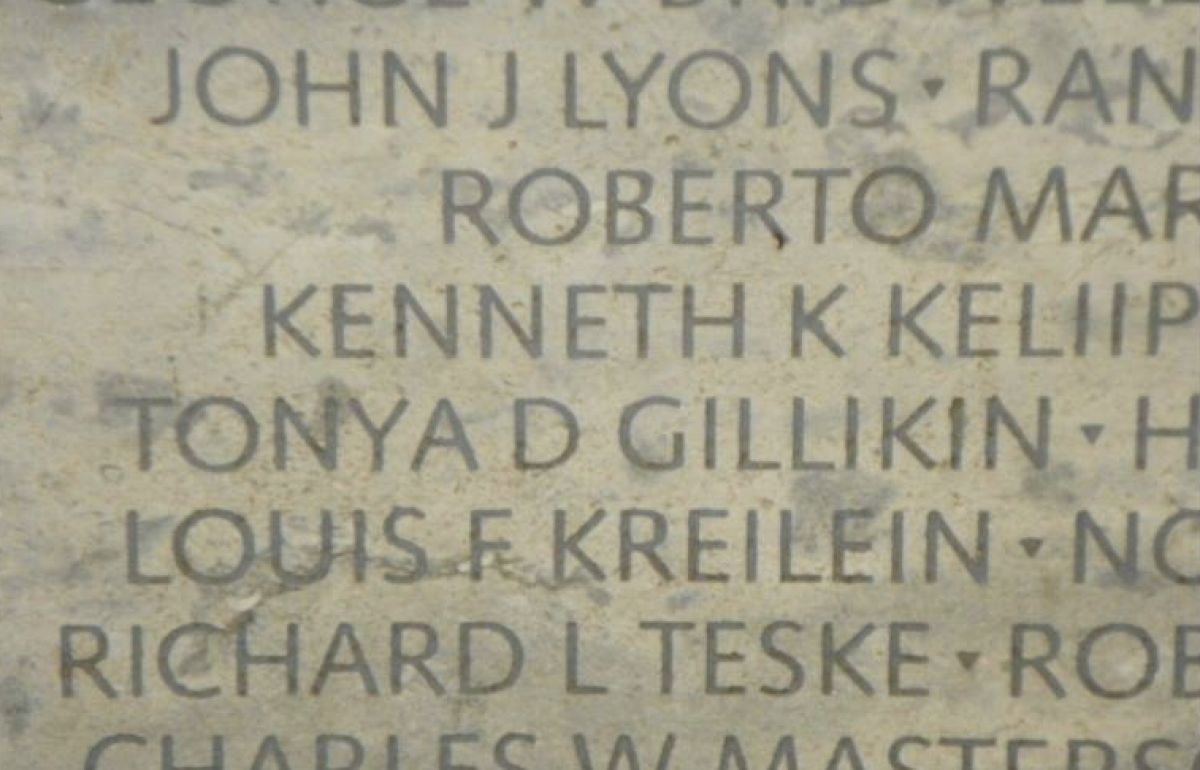 Commissioner Bobby Whitaker, Commissioner Kenneth Ward, Lori Smith-Johnson, Commissioner Bud Whitaker, and Chief James Ayers
Time moves quickly and it's hard to imagine that it has been 23 years since Lt. Tonya Gillikin was slain in...